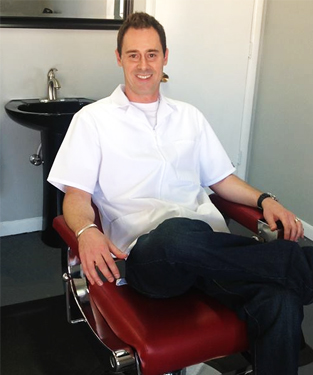 Brandon Hill has been licensed and actively working in the state of Indiana since 1998.
Testimonials
Col. James Braddock

"Brandon is the only guy in town with scissors sharp enough to cut my hair."

John J. Rambo

"Back there I could fly a gunship, I could drive a tank..but here, Brandon slightly trims my hair at a fair price."

The Terminator

"My hair has never looked this great! I"ll be back."

Marion Cobretti

"Bad hair is a disease. Brandon is the cure."
Hours
Sun & Mon: Closed
Tue: 9:30am - 5:00pm
Wed: 9:30am - 5:00pm
Thu: 9:30am - 7:00pm
Fri: 9:30am - 5:00pm
Sat: 9:30am - 2:00pm
Pricing
Haircuts: $11
Beard trim: $4
Contact & Location
Phone: 502-693-5076 (texts ok)
Address: 1428 Gateway Plaza Jeffersonville, IN 47130
Location: Just behind KFC & Burger King on 10th street.
acebook feed
"The outside of the shop may be a bit dull, but you'll leave looking sharp!" (Brandon Hill)